Recently I have developed an interest in web design, maintenance and photo retouching.
I have created a few web sites for cat fanciers, with more in progress.
I do not have set pricing for web site designs as each site is different.
I also do maintenance on existing sites (text & photo updates, additional pages,
pedigrees & photo retouching) at $25.00 per hour.

Please contact me if you are intested in having a web site designed or in
having me do web maintenance on your existing site .
Web Design:
The following are sites that I designed:
Winterfrost Oriental Shorthairs
Haute-Ming Siamese (no longer active)
Penelane Colorpoint Shorthairs
Afina Siamese (no longer active)
Caring For Cats Veterinary Hospital
These are sites that I update and maintain:

Proposed templates for new sites:
Cage Sign Design:
For a nominal fee I can design a cage sign or button for you. The designs are produced
as a pin back metal button which is vibrantly colored and covered in scratch resistant mylar.
Buttons come in various sizes up to 6 inches diameter which makes a nice cage sign for shows.

Photo Retouching:
I do photo retouching billed out at $25.00/hour.
The following are examples of photos that I have retouched:
Original Photo © Blue Gems

Retouched Photo
Distracting background removed.
Contrast increased.
Addition to tail that draped out of original photo.

Original Photo

Retouched Photo
Image was brightened.
Right eye was opened up.

Original Photo © Twisted River

Retouched Photo
Another eye opened up.
Image contrast was increased.
Soft border feather affect added.

Original Photo © Chanan

Retouched Photo
Cat put on different background and
image was given more contrast.
Feathered vignette frame added.
Web Site Banners:
I can create a banner for your web site. The cost is from $50 to $75, depending on complexity.
Here are some examples of banners I have created: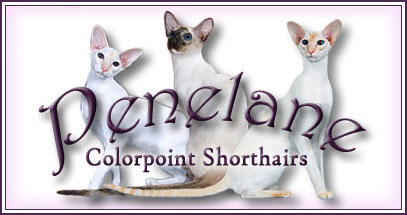 Print Ads :
These are some print ads I have designed:
| | | |
| --- | --- | --- |
| | \ | |
| 2009 CFA Yearbook | 2010 CFA Yearbook | 2009 CFA Yearbook |
| | | |
| | | |
| 2009 Annual Delegate Book | 2009 Annual Delegate Book | 2009 Annual Delegate Book |
| | | |
| | | |
| 2011 Yearbook | | 2011 Yearbook |
| | | |
| | | |
| 2011 Annual Delegate Book | | 2011 Annual Delegate Book |

Copyright © Thaifong, Virginia Wheeldon.
All photographs are copyrighted by the individual photographers.
Site Designed by ShowCatsOnline.com and Virginia Wheeldon
Site maintenance by Virginia Wheeldon
Background Graphic by Invidia.